Talent Strategy
Talent Strategy is one of the important strategies of the company. The group adopts active human resources policies to attract, develop and retain talents.

Since its inception, the company focuses on talent work and takes staff as the most valuable asset and the driving force for sustainable development. Upholding the people-oriented concept, the company vigorously establishes a caring environment for the staff, and adheres to the talent principle of "respect, trust, understanding and development", and provides a good platform for career development.

Meanwhile, We are concerned about employees' physical and mental well-being and living conditions. We promote healthy living and happy working, and strive for making our company one of the best companies to work for.

Training and Development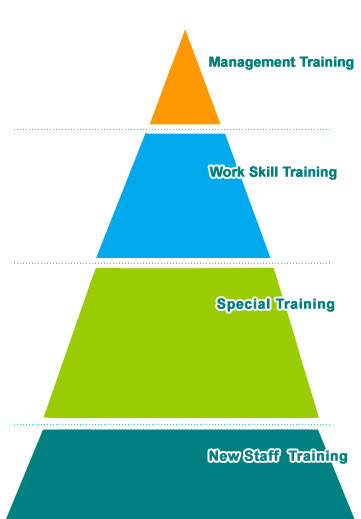 The company engages renowned lecturers from well-known training companies to provide management and leadership training for leaders on a regular basis, and lays emphasis on the improvement of performance management capabilities.

The company employs a large number of experienced internal lecturers to carry out training, guide other employees, and share their work experience. This kind of interactive learning will improve employees' job skills. We send related employees to participate in open lectures or invite other lecturers to bring in-house training, so as to introduce advanced skills and technology.

Human Resource Department integrates internal and external resources to provide employees at different levels with internal training, open lectures, industry summit forums, long-term job training programs, in-service or full-time academic education so as to develop their skills. We also offer management training for management personnel and talent team, to support their sustainable development.

We provide intensive training on vocational skills, literacy, culture, rules and regulations, to help new comers to understand the corporate culture, integrate themselves into the team.